Having taken all these into consideration, a transcription may look as follows: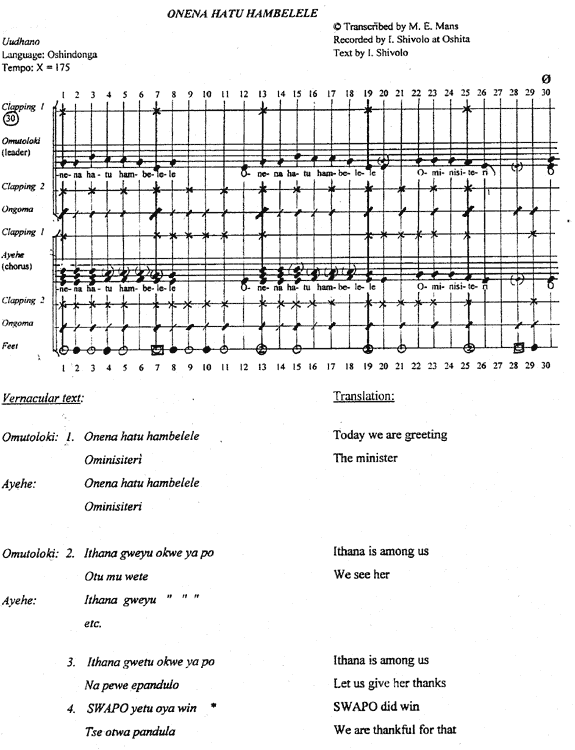 Suggestions for implementation of music and dance as ngoma in the classroom
Once a teacher has gained information on a cultural practice and has materials for use in the classroom, attention needs to be paid to the mode of implementation. While there are many possibilities, an approach located within the spirit of ngoma would take cognizance of the following three cornerstones that underpin this approach.
Music/dance as ngoma emphasizes communal performance

One of the main differences between Western music and dance and the spirit of ngoma, is the shift of emphasis from individual performance to the synergy of group performance where everybody participates. This does not imply that individual excellence is of no consequence in ngoma. On the contrary, excellence in terms of balance, clarity of purpose, precision and originality are valued, but within the context of improving the performance of the whole group. Performers gain identity through their cohesion and merger with others. Hence, performance as ngoma demands the ability to function in a complex interactive environment in harmony with other individuals. Most Namibian performance events I have studied cannot succeed without communal participation.

Within the classroom one can bring about closer involvement amongst members of the group by using a circle formation, where all are equal and participants have visual contact with one another. In the ngoma spirit a good performer is one who does not try to outshine the group, but who, through his/her performance draws in other participants so that everybody gains from it. Thompson (1974: 2, 27) refers to "levels of perfected social interaction" where a good leader brings out the "full and explicit mode of choral response." Communal performance also means that a particular aspect of performance, for example the drumming, the dance or the masks, is never emphasized over another in performance. The principles of equity and balance are therefore brought to the fore in this kind of performance.

The song forms that predominate in Namibia and other parts of southern Africa enhance communal participation, because they involve call and response, mostly with a cyclic structure. The leader's call reminds all participants of the melody and words of the song and even allows newcomers to join in. The cyclic structure encourages freedom of participation and provides continuity that allows participants to dance, sing, clap, and even move away and return as wished. Such songs are imminently suitable for classroom use, as they are easily learnt and remembered. By adding other aspects of performance (dance and instruments) the teacher can adjust the level of challenge, making one song adaptable to various levels of schooling.

In most Namibian communities performances take place in a supportive and encouraging environment. A supportive teaching-learning atmosphere that approximates this situation can be created in the classroom. Learners need to feel free to explore new modes of expression, and to discover the ways in which sound, movement, and expression are combined into music and dance. They can explore individual abilities and interests which will improve the group performance within the supportive framework of a communal performance. Consider dance improvisations, drumming, other instrumental parts, (re)creating contextual background through ornamentation, masks, and so on. Communal spirit can be enhanced by linking performance to discussion, negotiation, decision?making and problem solving which go hand in hand with creative group activities. Input, either collective or individual, is required from learners, so that decisions can be taken in terms of the outcomes or solutions to problems.

Music /dance as ngoma provides holistic connections

Bringing about the holism of ngoma requires the removal of artificial boundaries between the different arts. Indigenous Namibian performance has been shown to involve instruments, singing, dance, dramatic aspects such as special clothing and atmospheric effects, ornamentation and design, spiritual beliefs, affirmation of power structures, and so forth.

[T]he integration of all these artistic and social concerns into a single unified event is the essential inspiration of an African musical performance. In the depth of this integration, we can recognize the expression of a profoundly humanistic sensibility and one of the great artistic achievements of humankind. (Chernoff, 1979: 87)

The performance of a traditional music/dance event, e.g. /gais, is in itself a holism. This is demonstrated by the actions involved in preparing a class performance, namely:

learning and performing the singing, the clapping, the dance,
creating a performance setting which reflects a general understanding of the culture and its history,
designing and making costuming (a recreation or abstraction of
traditional dress) or atmospheric props,
preparing for a performance through the learning processes of discussion, planning, negotiating, rehearsing, and committing to
memory.

Because Namibian performance traditions are conceptualised holistically, they are pre-eminently suited to exploring inter-arts connections. Certainly this presents a challenge for both teachers and learners. By exploring the multiple connections among the arts, and between arts and life, intellectual challenge is experienced. Even though one teaches through one medium at a time, what is to be avoided is the partitioning of music and dance and other art forms, treating them as though there are only tenuous relationships. In music and dance as ngoma the emphasis is on the exploration of natural connections and ties, which once unlocked, provide learners with a great variety of experiential possibilities, bringing the arts closer to life.

Music/dance as ngoma emphasises oral-kinaesthetic ways of teaching and learning

Music and dance are things people do. They are immediate. They relate to sound, time and space; hence much of the teaching and learning of music and dance take place in an oral-kinaesthetic way. Sound, touch and action (not words) are the direct sensory media through which music and dance are learnt in oral societies. This means that teaching and learning orally and kinaesthetically rely heavily upon imitation of perceived sounds, movements, gestures and expressions, and upon sufficient repetition to fix the sound or action in the memory. It is through frequent repetitions at regular intervals that learners gradually build up the skills that allow them to perform without undue concentration on details, freeing them to concentrate on quality of performance. Traditional rote learning (imitation and repetition) in music and dance is not only indigenous to Namibia, but is a means commonly employed in music education where performance (singing and playing) is considered important. Although it requires time for an adequate number of repetitions, the learning that results is highly effective. In oral societies, the adult community provides models for performance, on which the child may model his/her own performance through imitation. In schools the teacher, other members of the community, or peers can act as models who perform certain actions that the learner imitates.

Classroom experiences should provide learners with adequate and varied sensory input of experiences in terms of musical sound and bodily movement. This implies ample opportunities for listening to the use of voice tones, rhythms, instrumental combinations, tonal systems, and observing dancing in different styles, of different qualities, and for different events.

Teaching and learning by means of oral methods imply adequate time, the lack of which may limit their efficacy to certain extent. It is, therefore, important to strike a balance between the tried and trusted methods and approaches personified by oral-kinaesthetic modes, and innovative and expansive learning through exploration and discovery. Modern teaching media may also include the use of audio and video recordings, as an introduction or as a more advanced model for imitation. The use of modern technology is not in contradiction with ngoma, as long as sound, touch and action are central to the process.