Inspiring Creativity in Urban School Leaders:
Lessons From the Performing Arts
Girija Kaimal
Drexel University, USA

Jon Drescher
Lehigh University

Holly Fairbank
Maxine Greene Center for Aesthetic Education and Social Imagination, USA

Adele Gonzaga
Temple University, USA

George P. White
Lehigh University, USA
Citation: Kaimal, G., Drescher, J., Fairbank, H., Gonzaga, A. & White, G. P. (2014). Inspiring creativity in urban school leaders: Lessons from the performing arts. International Journal of Education & the Arts, 15(Number 4). Retrieved [date] from http://www.ijea.org/v15n4/.
Abstract
This paper presents an analysis of how guided engagement with the arts can provide leadership lessons for school leaders and administrators. The study was conducted as part of two projects funded by the School Leadership Program (SLP) grants from the U.S. Department of Education. The principal interns and practicing school leaders participated in arts engagement activities (jazz ensemble, chamber orchestra, and tango dance) facilitated by teaching artists from the Maxine Green Center for Aesthetic Education and Social Imagination. Participants attended experiential workshops with teaching artists, observed the art form and then listened to the process and techniques used by the artists. Data sources for the study included observations, reflective narratives and interviews with participants. These were analyzed using grounded theory methods. The findings indicate that guided engagement with the arts provide lessons to school leaders in the form of interdisciplinary analogies and metaphors. The narratives generated by artists and participants served as a bridge: building connections between leadership and artistic practice. The experience encouraged participants to: gain new perspectives on optimal contexts for learning, develop a nuanced understanding of leadership, move from abstract to concrete understanding of relational constructs, and feel empowered through trying new experiences. Implications of the findings, including translating the lessons into actual practice and the addressing the needs of participants who did not connect with the sessions, are also discussed.

Visual Abstract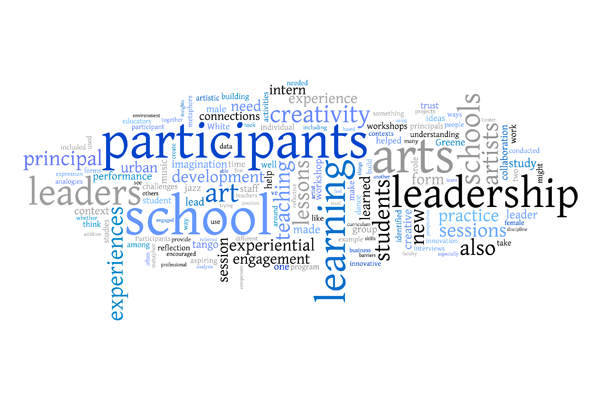 This article is available in PDF format.