When a Body Meets a Body: An Exploration of the Negative Impact of Social Interactions on Museum Experiences of Art
Matthew Pelowski
University of Copenhagen, Denmark

Tao Liu
Sun Yat-Sen University, China

Victor Palacios
Nagoya University, Japan

Fuminori Akiba
Nagoya University, Japan
Citation: Pelowski, M., Liu, T., Palacios, V., & Akiba, F. (2014). When a body meets a body: An exploration of the negative impact of social interactions on museum experiences of art International Journal of Education & the Arts, 15(Number 14). Retrieved [date] from http://www.ijea.org/v15n14/.
Abstract
We consider the phenomenon of social interactions within the art museum, arguing that even the bare possibility of meeting others or intruding into their gaze can have a profoundly detrimental effect on art experience. This is done by tracing a finding from our previous studies in which we considered three museum galleries--each with the same artist's paintings and basic layout; the only major difference being design elements within one space encouraging social interaction and in turn causing repressed enjoyment, negative emotional experience and negative art evaluation. We use this example as a frame for introducing a model of the psychological impact of social interaction on the behavioral and cognitive experience of art, considering its implications for education--which often focuses on the social--as well as implications for personal or introspective art engagement. We also consider a number of measures and aspects that relate to this model and which might be considered by educators in their planning and art study. We conclude with a followup study of the same gallery, after its physical renovation to minimize social interactions within the space, and showing significant increases in pleasurable or rewarding outcomes as well as increased positive evaluations of the same art.

Visual Abstract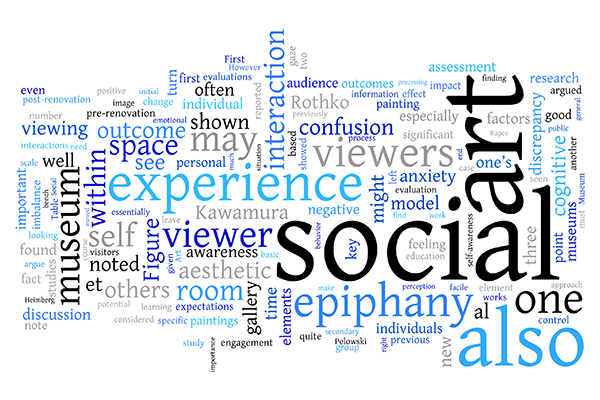 This article is available in PDF format.