Bead Collage: An Arts-based Research Method
Lisa Kay
Temple University, USA
Citation: Kay, L. (2013). Bead collage: An arts-based research method. International Journal of Education & the Arts, 14(3). Retrieved [date] from http://www.ijea.org/v14n3/.
Abstract
In this paper, "bead collage," an arts-based research method that invites participants to reflect, communicate and construct their experience through the manipulation of beads and found objects is explained. Emphasizing the significance of one's personal biography and experiences as a researcher, I discuss how my background as an artist and art therapist influenced the development of this approach. I propose several pedagogical applications of "bead collage," offer questions for consideration, and suggest future directions for this method. I invite others to explore this, or similar approaches drawn from their own experiences, to develop what Eisner (1995) and Bresler (2006) describe as "artistically-crafted" and "aesthetically based" research.

Visual Abstract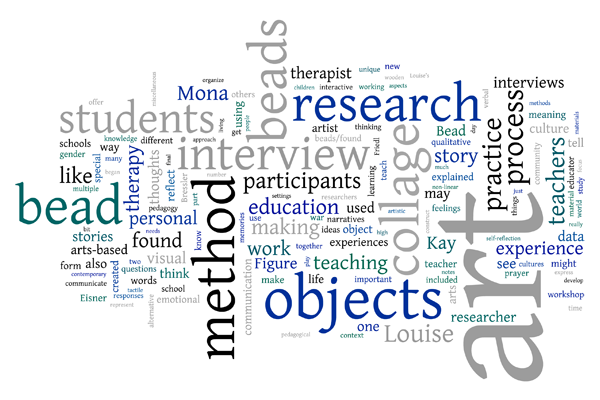 This article is available in PDF format.