Commitments to a Community of Artistic Inquiry: Becoming Pedagogical through A/r/tography in Teacher Education
Peter Gouzouasis
Rita L. Irwin
Emily Miles
Alexandra Gordon
University of British Columbia, Canada
Citation: Gouzouasis, P., Irwin, R. L., Miles, E., and Gordon, A. (2013). Commitments to a community of artistic inquiry: Becoming pedagogical through a/r/tography in teacher education. International Journal of Education & the Arts, 14(1). Retrieved [date] from http://www.ijea.org/v14n1/.
Abstract
The purpose of this inquiry is to investigate how a/r/tography is uniquely situated to enact, develop, and problematize 'becoming pedagogical' in an arts-based cohort in a teacher education program. This particular study purposefully grapples with visual and performing arts, in an elementary teacher education program, as teacher candidates 'learn to learn' how to inquire through their disciplinary and interdisciplinary frames of mind. We take the position that arts-based research adds to the diversity and complexity inherent in understandings about education and pedagogy. This research was infused through principles of teaching, music and movement, and visual arts education classes at The University of British Columbia. To learn about adopting an a/r/tographic stance in their journeys of becoming teachers, teacher candidates were actively involved in arts-based research workshops, the development of an art exhibition, learning to infuse creative pedagogies across the curriculum, and sharing their arts-based research projects. Their art took the form of public performances with artistic (music, dance, drama, visual) representations of curriculum.

Visual Abstract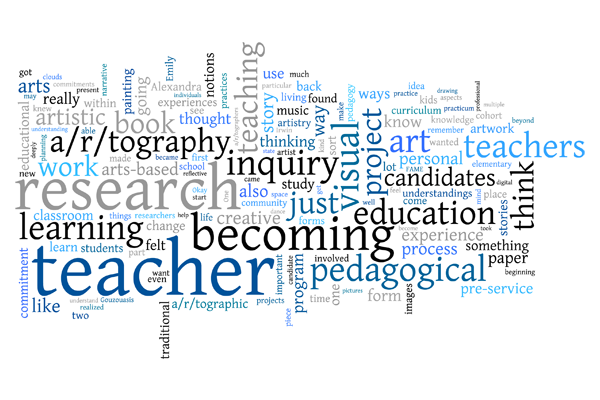 This article is available in PDF format with embedded videos.