Caught in the Betwixt-and-Between:
Visual Narrative of an Asian Artist-Scholar
Koon Hwee Kan
Kent State University, USA
Citation: Kan, K. H. (2009). Caught in the betwixt-and-between: Visual narrative of an Asian artist-scholar. International Journal of Education & the Arts, 10(29). Retrieved [date] from http://www.ijea.org/v10n29/.
Abstract
Juxtaposing visual images with stories, this work addresses the formation of my transnational identity and my experience in the "betwixt-and-between," illustrating my struggles as artist, scholar, and international faculty member at an Anglo American university. I exacerbate tensions between my professional and attributed identities tocomplicate and problematize my other identity--neatly constructed as a faculty member of color by the corporate management of U.S. higher education. Recontextualizing within colonialized discourse as inquiry mode, my visual narrative conveyed as photocollage-cum-essay shows how I came to accept rootlessness as a form of empowerment. The substantive findings include strategies to maintain integrity in such an existence: cherishing the vitality of the senses, preserving the vernacular in the voice, and summoning volition from my Asianity. Drawn from the visual narrative that helped me come to terms with my "out-of-placeness," some suggestions to expand the scholarship of teaching learning by combining it with personal creative works and research interest are offered.

Visual Abstract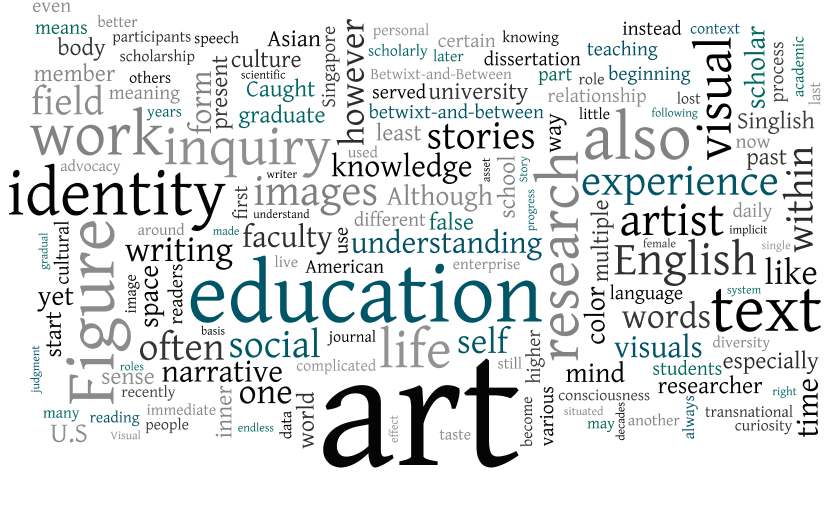 This article is available in PDF format.