Developing Ecological Habits of Mind through the Arts
Rena Upitis
Queen's University, Canada
Citation: Upitis, R. (2009). Developing ecological habits of mind through the arts. International Journal of Education & the Arts, 10(26). Retrieved [date] from http://www.ijea.org/v10n26/.
Abstract
This study describes the experiences of nine school-based artists who took part in a six-day professional development course on ecology and the arts at an off-grid wilderness facility. The course was designed to increase artist-educators' awareness of issues surrounding energy use and consumption as well as to provide them with direction for approaching these topics through arts-based learning in schools. Analyzing participants' views regarding renewable and non-renewable energy use, as well as documenting anticipated changes in personal and professional practices, were two important aspects of the research. Data were collected through observations and field notes over the six-day period, and through semi-standardized interviews which were conducted at the end of the course. Participants also completed an on-line survey regarding various energy conservation and consumption issues before arriving for the course. In the interviews, the artist-educators detailed what they learned about thermal mass, solar power, and consumer purchasing patterns. Most participants anticipated making changes in their home lives, such as cooking with locally available produce. Participants also described anticipated interactions with teachers and students upon returning to their local schools, both in terms of content related to energy conservation and ways that they would approach this topic through their respective art forms. Some participants also indicated how they anticipated changing their own artistic practices in their studio settings, such as switching to less toxic materials and using fewer consumable items. Having the opportunity to live at an off-grid wilderness facility was a key feature of the course for all of the artist-educators who took part in the experience.

Visual Abstract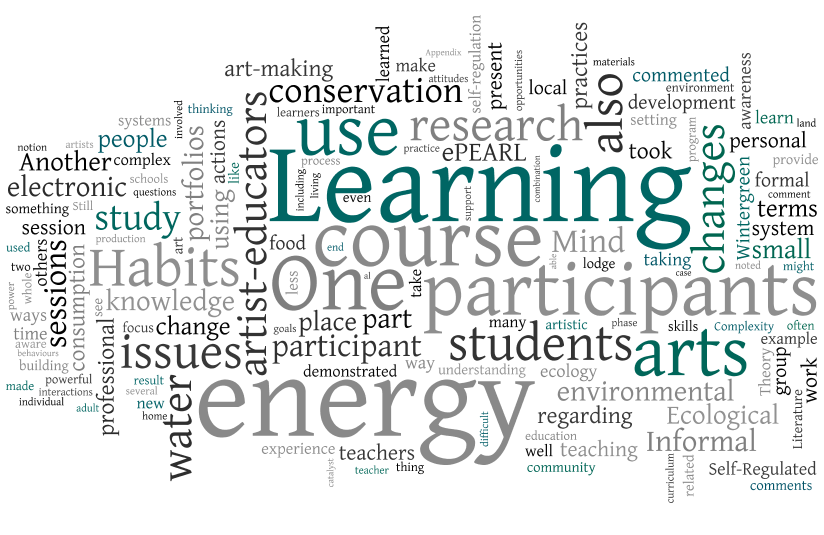 This article is available in PDF format.